Corporate Social Responsibility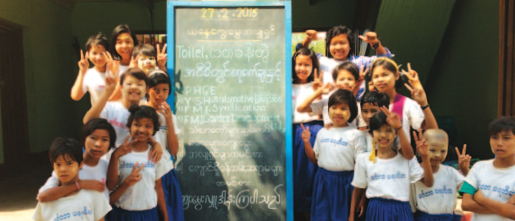 The Group's Corporate Social Responsibility ("CSR") is committed to contribute to Myanmar's development and drive positive change to the communities in which it operates. Its community framework focuses on improving education for children, promoting and raising awareness on responsible business practices and protecting its people and the environment. CSR is instilled within the Group's business practices and behaviour, as well as its involvement in various community projects.
Group Flood Relief Efforts
Cyclone Komen made landfall in western and northern Myanmar in late July 2015. In Myanmar alone, Komen affected over 1.1 million people – destroying well over 15,000 homes and over a million acres of rice paddies. The Group, together with its affiliates FMI and SPA, mobilised human resources, financial resources, logistics, medical equipment, and medicine to help victims in the most highly affected areas of Rakhine State.
One of the flood relief projects was to ensure that the flood victims have access to clean water. The Group, together with the Myanmar Business Coalition on Aid ("MBCA"), a Myanmar non-profit organisation organised two trips to the Mrauk U area – a remote area with rural villages accessible only by boat from Sittwe. A total of 40 volunteers visited 35 villages and distributed over 500 Sawyer PointOne Water Filters. The water filters provided direct and long term access to clean drinking water for over 10,000 families and 45,000 individuals.
In addition to distributing water filters to the villages, the Group and MBCA staff conducted a series of training sessions on their operation, assembly and maintenance, as well as the necessity of clean water for health and hygiene purposes including innovative ways of using and saving clean water.
Responsible Business Seminars and Workshops
The Group partnered with MBCA to deliver its CSR activities in Myanmar. The projects are mainly educational and focus on promoting sustainable responsible business practices. In order to do this, seminars and workshops are held for Small and Medium-sized Enterprises ("SME") owners and their management teams throughout Myanmar.
Over the past year, more than 1,800 individuals have attended MBCA seminars and workshops. With 80% of all businesses in Myanmar made up of SMEs, the Group is committed to supporting this group of owners and helping them thrive and grow which will eventually lead to more employment and empowerment in local communities.
Yoma Yangon International Marathon (YYIM)
The Group, together with Yangon City Development Committee, holds an annual marathon in the city of Yangon. The Yoma Yangon International Marathon ("YYIM") which started in 2013 aims to inspire athletes and to connect communities both locally and internationally through the promotion of healthy living.
In 2016, the fourth YYIM received overwhelming interest and brought together 6,022 runners which is 44% more than the 4,176 runners in 2015. The funds raised from the YYIM registration fees were all donated to three adopted charities that are committed to the education and healthcare of underprivileged children in Myanmar. The charities are:
(i) Su Taung Pyae Youth Development Centre in Thanlyin Township, Yangon. More than 1,500 children benefited from the donation through educational programs and have access to clean water with the installation of a new water filtration system.
(ii) YCDC Non-Profit Child Day Care Centre for Low Income Citizens. More than 100 children received access to early childhood care and kindergarten-level education in six Yangon locations.
(iii) Aung Za Bu Youth Development Centre in Sin Chan Village, Koh Mhuu Township. The Centre provides education for 1,044 students, many of whom are orphans from conflict affected areas.
Helping Out in the Community
As a responsible corporate citizen, the Group continues to contribute to the development and uplifting of the quality of the life in the communities where it operates. The Group also encourages people to take an active role in their communities, as individuals or as a team.